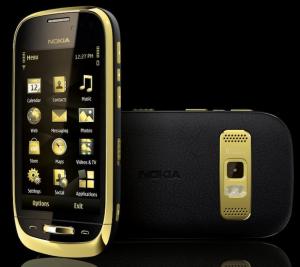 We have all heard about the gold that is contained (along with other valuable metals) within most modern mobile phones. Nokia, however, has announced plans to release a new handset that displays its gold content a little more visibly.
The Nokia Oro is an €800 ($1,125) handset that comes in a casing that is plated in 18-carat gold, finished with a backing made of prime Scottish leather and a sapphire where the conventional plastic home button should be.
The handset is being launched in the Europe, Eastern Europe, China and the Middle East markets later this year, and the Finnish phone company said they hope the smartphone appeals to those who appreciate the finer things in life.
A company spokesman said, "In some areas, possession of such premium products is the passport to being taken seriously."
The phone also has gold-tinted numbers and letters on its button and comes in either white or black. It operates on Nokia's popular Symbian system, providing users with a full range of apps and mobile services.
The gold components used in handsets' internal electronics mean that old mobile phones can prove very lucrative, regardless of their working condition, if properly recycled.